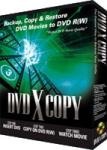 321 Studios
has released version 1.5.2 of their popular DVD X Copy -software.
New features in version 1.5.2 include:
·Fixed International activation issues.
·Fixed many read problems that produced the "Error Reading Source Disc" message.
·Drive support has been improved. Many drives that were supported in version 1.4.1 and not in version 1.5.0 should now be supported once again.
·Better external burner support.
·Fixed some bugs that caused DVD X Copy to close improperly.
The new version can be downloaded at
DVDXCopy.net
. For more information visit the
DVD X Copy support forums
. Any old version should be un-installed before installing the new version.