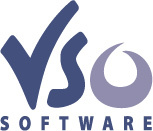 What a convenient day to release the first stable version of the photo archival and slideshow software - just in time for you fresh Christmas photos. We have been excited about this product for quite some time, as we participated to
the beta testing
. The beauty if this software is in it's simplicity. The software is reasonably priced at €19.90, and there is Xmas discount of -20% if you are quick.
Just in time for Christmas, this new product, definitely focused on customers' needs, allows you to create exciting and personal gifts from your favourite personal snaps.

"It's exactly what we want to offer our customers. PhotoDVD is designed to combine a high quality result to a comprehensive and easy interface. We are proud of this product that creates a new brand focused on video and pictures management", said Fabrice Barroy-Meuwissen, VSO's marketing director.

With a few clicks, PhotoDVD backs up and converts your digital photographs to a DVD to view them on your living-room player. The new animation engine analyses the picture's size and orientation to create automatically a movie with cool fade, zoom, and pan effects. Although the animation engine is both powerful and fast, a recent computer is better to enjoy the simplicity of this product, really designed for busy and demanding people.


"We have created easy-to-use software based on users' comments and we have spent time collecting valuable feedback for this project to fit their needs. What people want, and, what we will introduce in the next version, is a lot of innovative options such as DVD subtitles, multiple audio tracks and some fine tuning for animations", outlines Jacques Vignoles, VSO's lead developer.
More info and download at
VSO Software