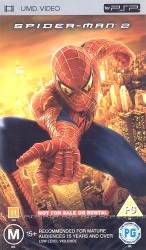 For some reason we got several copies of
Spider-man 2 UMD
for registering the
PlayStation Portable
. Since we have no use for the disc we're giving it away to one of our users.
The UMD Video disc is coded to regions 2 and 4, so it's not viewable on PSPs from other regions. Since Sony is giving away the movie to everyone who registers their PSP at
yourpsp.com
, it's probably not that big an issue. Those who own a PSP have probably little use for the disc, and those who don't own the device have even less use for it. Take it apart, if you wish.
The disc is
not intended for sale or rental
, but nothing prohibits from giving it away for free. Import restrictions may apply in your region, so before entering make sure you're allowed to import the disc. The value of the movie is about $20.00 (20.00eur)
We reserve the right to withdraw the offer at any time.
To enter just post a comment to this news article or reply to this discussion thread.
The winner will be drawn at random from the replies to the thread on Friday, September 30th. Only one reply per user counts -- posting several replies is allowed, but it doesn't increase your chances of winning.