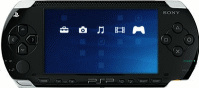 Not long after the
toc2rta
exploit made it possible to run some code on a
PSP
with
v2.00
firmware
, a downgrader has surfaced. All respect and appreciation should go to
MPH
for doing what many tried and failed to do. I have tested this method and just spent the last few hours preparing and putting a guide on the site for it. Check this out...
I successfully downgraded my
PSP
from 2.00 to 1.50. The guide I have written has some screenshots and some pictures I took of my PSP (quality kind of sucks, but I'll see maybe tomorrow if I can get something better online.) There is a lot of text at the start of the guide (including one warning
EVERYONE
must read) because I give a brief overview of the process before illustrating it properly.
This guide was written with intent of making it a little easier for new PSP users to downgrade to 1.50 to run legal homebrew apps. This is not a guide to PSP piracy. I believe that since you bought the console (and let's face it, they are not cheap) you should be allowed to run your own homebrew and not just
"authorized software"
.
Check out the guide at:
http://www.afterdawn.com/guides/archive/downgrade_psp_2.cfm
Feedback (spelling mistake notification etc.. ;-) ) is welcome, just send me a PM.
Again, all respect to
MPH
for the excellent downgrader.
Source:
PSPUpdates