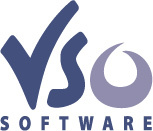 The French
VSO-Software
is preparing for the launch of CopyToDVD Suite v3, which will integrate the features of their both top selling products, the BlindWrite and CopyTo CD/DVD.
As we can see, the Suite is evolving into an all-in-one recording solution. VSO is already preparing the support of dual-layer 8.5 gigabyte DVD media, a.k.a. DVD9. The application can work in co-operation with 3rd party DVD to DVD-R transcoders. Supported transcoders include the popular DVD X Copy and DVD2One, but CopyToDVD itself doesn't contain a transcoding component.
Audio features have been boosted with an audio player softaware, and also 3rd party integration with K-MP3 audio file manager is provided.
The development of CopyToDVD suite v3 looks promising. All the good old things are there, like the Windows Explorer integration and the backup powerhouse BlindWrite. The integration gives the product a more polished look & feel, making easier for the less experienced to approach.
Visit
VSO-Software
for more information on their current products.