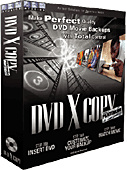 On 20th of February, a federal court judge
ruled
that
321 Studios
have to remove the CSS decrypting functionality from their
DVD X Copy
products by the 27th of February, 2004.
321 Studios have applied for a temporary injunction, but as it seems highly unlikely that their bid for this will succeed, they have announced that effective tomorrow, all DVD X Copy products will be delivered without a CSS decrypting functionality.
So if you haven't got your copy yet, but plan to purchase it, you're in quite a hurry. You can purchase DVD X Copy and other 321 Studios' products directly from
their website
.
321 Studios also encourages that
all existing users should upgrade their products to the latest version
, because after midnight tonight (Central time) all upgrades will also lack the ripping functionality. Upgrades are also available at
www.DVDXCopy.com
.
To use ripper-free versions of DVD X Copy for backing up copy-protected movies, users need to use a separate program. Luckily such a piece of software is already available -- a freeware program called
DVD43
, which is available for download at:
http://www.afterdawn.com/software/video_software/dvd_rippers/dvd43.cfm