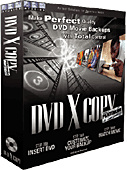 321 Studios
has released a new DVD backup tool called
DVD X Copy Platinum
. DVD X Copy Platinum features new
TDF technology
, which allows the user to customize the compression level of each title set individually. The self-made TDF-files can also be shared with other Platinum-users.
DVD X Copy Platinum finally features support for episodic discs, which means that backups of series DVDs, such as
The Simpsons
or
Star Trek
can be made without problems.
In addition to DVD X Copy Platinum, the bundle includes
DVD X Copy XPRESS
for very simple, one click backups, as well as
DVD X Rescue
, which allows you to test readibility of DVDs, and rescue discs with read errors.
The first impressions of the software are very positive indeed. Even though it offers a lot more flexibility than the previous versions, DVD X Copy Platinum is still easy and straight forward to use. We'll be taking a more in-depth look at the software soon.
Visit the DVD X Copy home page
to learn more about the software, and purchase it. It's currently available for $119.99 after a $30 mail-in rebate.