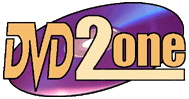 One of the most popular DVD-2-DVDR tools,
DVD2One
, has been updated. The latest version,
DVD2One v1.3.0
, introduces a new feature called "join mode" that allows, as its name suggest, joining multiple DVDs
(or parts of DVDs)
into a single DVDR compilation.
Join mode is specially useful for so-called "flipper" discs
(DVD-10, DVD-18 and DVD-14 discs)
that are relatively rare nowadays, but nevertheless, very annoying in many ways. The full changelog is here:
Added a powerful new copy mode: the join mode.
Added default audio and subtitle selection for movie-only and join mode. Just doubleclick on the row to select that language as default.
Added a special feature for join mode to navigate through the different titlesets. Just in case your dvd player does not feature a disk navigator itself.
Fixed a small problem in the compression ratio calculation, which could affect the destination size estimation of the variable ratio mode.
As usual, you can download the latest version from AfterDawn.com, available from this URL:
http://www.afterdawn.com/software/video_software/dvd-r_tools/dvd2one.cfm