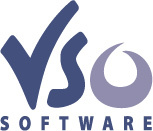 VSO-Software
has released a new beta version of the upcoming BlindWrite 5. New version 4.9.9.95 is now available for the registered users.
BlindWrite 4.9.9.95 is available for download for the registered users. Many thanks for all your nice comments about this new release. We are working hard to improve the last details and optimize the products. We can't reply to everybody, but be sure we are reading carefully your feedback and try to satisfy you. To update your version to the latest 4.9.9.95, just use the links embedded in the email you received few hours ago.
Download the new version:
CLICK HERE
. Read our BlindWrite 5 beta preview article
HERE
.