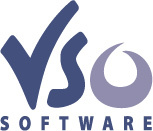 The freeware conversion software has been updated with significant changes. This is the first version that allows adding of multiple video files to a single DVD-R.
If you would like watch your video files on a DVD player, this program is a must have. It supports various input video formats, including
Divx, Xvid, VOB, MOV, WindowsMedia, MPEG-4
, and many more. NTSC and PAL are supported, as well as 16:9 widescreen, or regular 4:3. The encoding process is relatively fast, and offers decent quality. And best off all, VSO Software offers this product currently
for free!
Version 0.4
add multiple files input. ( select file by file by order of display to the output )
implement skin option for later use.
works under Linux with Wine support.
Go grap it now!