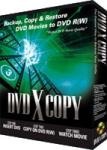 Whether you agree with commercial DVD backup tools or not, it doesn't change the fact that one of the most important American lawsuits related to the controversial
DMCA
law is currently being fought between Hollywood movie studios and
321 Studios
, a maker of DVD backup tools such as
DVD X Copy
and
XPRESS
.
Now, according to a
ZDNet
's interview with 321 Studios, company has prepared mentally for the worst possible outcome as well and told to ZDNet that if they lose their court case -- i.e. court decides that decrypting the copy-protection found on DVDs violates DMCA law -- they will launch a new line of tools that are identical to their existing tools, but don't contain the CSS code cracking part in them.
Company has also apparently teamed up with
ULead
and now offers, for limited time, four ULead's video editing products free for users who purchase their DVD backup products.
Source: ZDNet UK