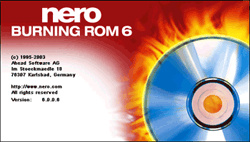 The
CD-RW.ORG
and
Afterdawn.com
are proud to present our special feature of the Ahead Software's upcoming
Nero Burning ROM version 6
. This weekend is dedicated to this extensive multimedia and digital storing software package. Nero 6 promises to be a true all-you-need solution for the consumers of the digital media age. All of the components in Nero 6 are developed by Ahead Software, so it is not just a bunch of out sourced software wrapped into one.
The Nero 6 has so many features and applications that the review is split into three parts, which are published daily. Instead of just publishing screenshots and re-typing Ahead Software's marketing material, we actually took the time to look into the new features and actually used the software for some time.
Day 1: The Emperor's new clothes
Nero Burning ROM is the core software of the package. Today we will see how the Emperor has evolved since the 5.5 generation. Also we will take a peek at the new SmartStart launch panel that ties the components of this software package into one.
Read the article!