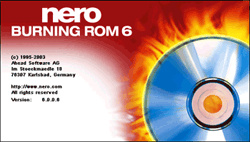 The new version offers a graphically and structurally redesigned user interface and more significant test results.
Nero, leaders in digital media technologies, announced today the release of Nero CD/­DVD Speed 4. Graphically and structurally enhanced, the user interface of this standard benchmarking tool for CD, DVD and Blu­ray drives now allows all key functions, such as Benchmark, DiscInfo, DiscQuality and ScanDisc, to be directly accessed and managed through tabs in the main window.
Thanks to more specific error messages, test results permit greater differentiation. For example, ScanDisc now also detects C1/C2 and PI/PO errors and organizes the results by track (audio CD), chapter (video DVD) or file (data disk), making it significantly easier to locate defective data. Disk content data available under DiscInfo was also expanded to include information on physical formats and the number of layers or sessions. With a click of the mouse, the results can be copied to the clipboard as a text or as HTML.
The new version has also been considerably enhanced in terms of its graphic presentation. Color coding makes it easier to read the results, graphs can be customized, and the program window can be resized, including full­screen mode.
CD­DVD Speed comes with the Nero Toolkit, which consists of several programs for quick and easy access to comprehensive information on the system, the CD and DVD drives, and their optimal operating settings.
CD­DVD Speed conducts simple or more in­depth drive and medium tests for various formats - including the recent standard, Blu­ray. It can also generate special test media. Results are graphically displayed and can be exported and imported to and from many different programs.Sources: Nero,
CDSpeed2000.com