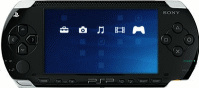 This isn't exactly brand new news but since it wasn't covered on the site I thought I'd cover it today. The
Sony Playstation Portable (PSP)
v1.50
Firmware
has been hacked and now users who know what they are doing could use it to run unauthorised programs. Originally the exploit involved using two memory sticks that had to be swapped, which worried a lot of users who didn't want to risk breaking their PSP. However today, a new launcher called
KXploit 1.50
was released that doesn't require a second memory stick.
An older version of the firmware that was used with the Japanese PSP releases was hacked months ago also. A newer version than 1.50 is also available now; v1.52. The v1.52 firmware was available first in Japan but Sony released it for North American users saying that it's mostly comprised of security updates. Of course, for anyone planning to use something like KXploit 1.50, updating seems like a bad idea but its likely that the v1.52 updates will be required in American PSP games soon, as several Japanese titles required the v1.51 firmware update.
So what exactly can people do now that the firmware was cracked? Well for one it is possible to play games that were not made for PSPs (but were made for other gaming devices), which is one thing that Sony really hates. Also it opens the possibility that PSP games could be pirated, if somebody could figure out how to load them on hacked firmware from a higher capacity memory stick for example.
Visit our dedicated PSP forum
here
.
Sources:
Yahoo
ps2nfo.com