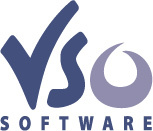 VSO Software has released a candidate version for evaluation before the launch of v2.0 final of DivxToDVD. Also there is a 25% discount coupon code available. Dowload it from
VSO Software
A release candidate version of DivxToDVD 2 is available for immediate download.
You can find the updated description below
Release candidate means it is very close to the final version, we are providing this test version for evaluation even if it has been extensively tested and can now even be registered. Thanks a lot to our beta team ( Tabby, John, JJ, ScubaPete, Robin, Bruno and others .... ). The trial version contains a watermark and it is slower to encode than any registered (purchase) version

You can have a discount on this Release Candidate with the coupon "d2d2rc11" , 25% as a launch offer available up to 1st of August

DivXToDVD is a 1 click solution to convert and burn your movie files to a compatible DVD playable on any home DVD player.

DivxToDVD supports most popular format such DivX, Xvid, MOV, VOB, Mpeg, Mpeg4, AVI, WMV, DV and stream formats. It converts your single files into a compliant DVD Video set of files and burns it on a DVD media.