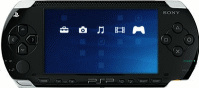 Sony
has released yet another
firmware
update for
PlayStation Portable (PSP)
console, v2.60. This time the main improvements over the previous firmware (v2.50) is the inclusion of support for
Microsoft
's
Windows Media
Audio (wma) format. Up until now, users with many
WMA
files had to convert them to
MP3
or
AAC
to listen to them using the
PSP
. An
RSS Channel tool
was also added, opening up the PSP to the world of Podcasts although unfortunately at this stage only audio is supported, not standard text feeds.
Here is the changelog for the firmware...
Network


[RSS Channel] has been added as a feature under [Network].

[Volume Adjustment] has been added as an option in the
[LocationFree™ Player] control panel.

[Simplified Chinese (GB18030)]* and [Traditional Chinese (Big5)] have been added as options to [Encoding] under [View] in the [Internet Browser] menu bar.


The option has some limitations. For details, see "About the Internet Browser's Chinese fonts".



Copyright-protected video data provided by a content provider or other services can now be downloaded directly to a Memory Stick Duo™ using the [Internet Browser].


For details, contact the video content provider.
Note that some content providers may charge fees for obtaining or using copyright-protected video.

Downloadable copyright-protected video may not be available in all countries and regions.


Music


Music data in WMA (Windows Media® Audio) format can now be played under [Music]. (This applies to music saved on Memory Stick Duo™ media.)


WMA9 Professional, WMA9 Lossless and copyright-protected WMA files are not supported.

Note that you must activate the [Enable WMA Playback] setting to play music data in WMA format.


Settings


[Enable WMA Playback] has been added as a setting under[System Settings].


A connection to the Internet is required for the one-time activation of this setting. Note that no personal information is collected during the activation process. For details, refer to the user agreement that must be accepted as part of the activation process.
Of course, it is important to mention that if you have been running
homebrew
on your PSP, then do not update to v2.60 as you will no longer be able to. There is also no method yet to downgrade 2.60 firmware.
Source:
PlayStation
Visit our PSP forum here:
http://forums.afterdawn.com/forum_view.cfm/149
If you have a PSP with 2.00 firmware and would like to downgrade to 1.50 to run homebrew, read this guide:
http://www.afterdawn.com/guides/archive/downgrade_psp_2.cfm