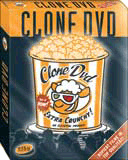 Both
CloneDVD
and
CloneDVD mobile
have just been updated to the most recent versions. We have been contacted several times regarding the
SlySoft
discount coupons, and I'm happy to say that the discounts are still available.
You can redeem the coupon by entering the code "
afterdawn
" at checkout at
SlySoft's site
. The discounts are as follows:
Number of products - Coupon Value
Single License (39$) - 5.00 US$
2 License Bundle (59$) - 10.00 US$
3 License Bundle (78$) - 15.00 US$
4 License Bundle (95$) - 20.00 US$
For example, if you were to purchase AnyDVD, CloneCD and CloneDVD, that would be a 3 license bundle (three products) and you would receive a $15 discount. So the price would be $63 instead of the usual $78. If you buy all four products offered by SlySoft you will receive a $20 discount, bringing the price to just $75.
Remember to use the promotion code
afterdawn
while purchasing the software. If you forget it, you won't receive any discounts. The coupon code is valid until February 25th, 2006.
Make sure you also check out our
DVD to iPod guide
. It uses CloneDVD Mobile to process the movie. The guide is available at:
http://www.afterdawn.com/guides/archive/dvd_to_ipod_clonedvd_mobile.cfm
Here's the changelog for
CloneDVD
:
Version 2.8.8.2: 2006 02 16
-Cosmetic: Wrong button size in output selection pane
Version 2.8.8.1: 2006 02 01
-New: Better handling of some badly mastered DVD titles
-New: Automatic read retries (20 times), allows copying of scratched discs
-New: Support for Windows Vista
-New: Added CD-R to the size selector in the title selection(previously was "Mini DVD", which confused people because of 8cm DVDs known as "Mini DVD" as well)
-New: Added support for DVD-R DL writing (only writing to +R Dual Layer Discs was supported)
-New: Workaround for incorrectly mastered DVDs made with Pinnacle Studio causing a navigation pack error
-New: Improved writing to DVD-R media
-New: Added brazilian portuguese language
-Change: Mini DVD size is changed to 1.4 GByte (size of 8cm DVD-R media)
-Change: "Filter unreferenced material to improve splitting" has been removed from the preferences pane. This option is now always enabled.
-Fix: High CPU use for several minutes when checking for program update
-Fix: Sound out of sync problems with incorrectly mastered DVDs
-Fix: Quality bar sometimes invisible with incorrectly mastered DVDs
-Fix: DVD configuration reported incorrect resolution for NTSC DVDs
-Fix: Closes connection after automatic update check
-Updated languages
The changelog for
CloneDVD Mobile
:
Version 1.0.5.2: 2006 02 16
- Cosmetic: Wrong button size in output selection pane
Version 1.0.5.1: 2006 02 16
- New: Added frame rate selection to the User Interface
- New: Added NTSCFrameRateX and PALFrameRateX keywords to devices.ini
- New: Improved playback of NTSC material, if correct frame rate is selected (23.98 fps for movies, 29.97 fps for videos)
- New: Added Subtitle selection and output to VOB passthrough
- New: Workaround for problem of hanging Video with iPod G5 firmware 1.1
- Change: Output resolutions of Apple iPod video
- Updated lanuages
- Updated manuals
Download CloneDVD from:
http://www.afterdawn.com/software/video_software/dvd_rippers/clonedvd.cfm
Download CloneDVD Mobile from:
http://www.afterdawn.com/software/video_software/dvd_tools/clonedvd_mobile.cfm