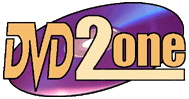 One of the most popular "one-click transcoding tools"
(in English: easy-to-use tool to backup any DVD movie to a DVDR disc)
,
DVD2One
, has been updated.
The new version, v1.4.0, includes quite cool new features, such as "layer splitting" and join mode. The full changelog is here:
Added cell/chapter/layer selection for movie-only and join mode.

Split a long movie over 2 disks using layer selection in movie-only mode.
Compile 'best-of' clips disks using cell/chapter selection in the join mode.

Changed input file IO for movie-only and join mode to random access based on IFO files.

This improves speed considerably in combination with the new cell/chapter/layer selection.
It also speeds up selection of one title from a vobset containing multiple titles.

Added check to verify whether the VOB files match with the IFO files.

This avoids possible strange and unpredictable behavior of the program.
It also avoids incorrect destination size calculation in case the IFO and VOB files do not match.

Fixed a small bug in the seamless join of a titles with multiple angles.
Fixed the problem that an illegal value in the Audio Info field in the IFO file could crash the program.
Also, there's a new version of
DVD2OneX
, a Mac OS X DVDR transcoder, which has the same changelog, but also has an additional bug fix
"Fixed a small problem with default subtitle selection in movie-only mode"
. DVD2OneX's version number is v1.3.0.
You can download DVD2One v1.4.0 from here:
http://www.afterdawn.com/software/video_software/dvd-r_tools/dvd2one.cfm
and DVD2OneX v1.3.0 from here:
http://www.afterdawn.com/software/alternative_platforms/mac_software/dvd2onex.cfm