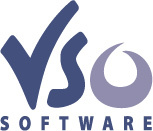 The French based VSO-Software, the makers of popular BlindWrite and CopyToDVD, has released some hints about an upcoming CopyToDVD Suite v3. Based on the information released, it will a high value set of tools.
At this point the Suite v3 is planned to contain: CopyToDVD, BlindWrite, VSO Media Player, Backup Scheduler, RW Eraser and SlideShow.
VSO has invented a nice concept for embedding playback software on recorded discs that will start automatically (Windows autorun). When backing up MP3 files one has an option to embed the light weight VSO Media Player to the disc, so that a player software is always carried with the music. SlideShow will do the same for picture files - when backing up for example digital camera photos, one has a chance to include an automatically starting slideshow software on the disc. These new features are to be introduced in the Suite.
At the same time VSO has released an update for CopyToDVD:
CopyToDVD 2.4.13:
Added a workaround for driver issue. Access layer can be forced to use ASPI calls, and if driver isn't found, ASPI is automatically selected
Changed behaviour (by user request) : When a single folder is selected, The name of the last part of the folder is used on the media
Changed behaviour (by user request) : The Volume name proposal is based on the last part of the folder structure, or precedent part if = to "VIDEO_TS"
Various fixes to prevent media detection problem that came since the use of patin-couffin driver version 18
Download the latest
CopyToDVD
. The VSO Media Player can be found at
VSO-Software