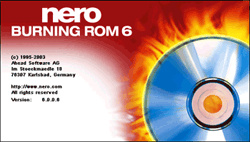 The new disc labeling technology is being aggressively pushed to the market. Latest supporter is Nero, which is of course a most essential partner in order to make LightScribe a success. This is actually quite typical for Nero, as they have been quick to adopt new technology before - like Yamaha DiscT@2 for example.
With this recent certification, LightScribe and Nero 6 allow the user to take control of the entire digital media creation process from start to finish.
LightScribe Direct Disc Labeling is a new technology that offers consumers and businesses a simple, no-hassle way to burn professional, silkscreen-quality labels on their CDs and DVDs. Using the same laser that burns data in their disc drives, users burn their data as always, flip the disc over, reinsert it into the drive and burn a precise, iridescent label with their desired text and graphics using the same laser that burns the data – no printer, permanent marker or adhesive labeling is required.
"We are excited to be working closely with LightScribe to integrate its technology into our software offerings," said Jim Corbett, Executive Director of Nero AG. "Nero's family of award-winning digital media product is the perfect complement to LightScribe's Direct Disc Labeling, as it provides the final touches."Source:
Nero