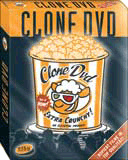 Elaborate Bytes have quickly released a critical update to the CloneDVD software, since a file corruption bug was discovered in the previous version 2.4.2.7. At the message forum of the
CDFreaks.com
, the software developer Olivier 'Olli' Kastl confirms that a serious bug has been discovered and now fixed.
After performing various additional tests I can confirm, that CloneDVD 2.4.2.7 has a severe problem. In other words: We screwed it.
I believe, that we have found the cause for the problems, and we will release an update which should fix the "skipping and stuttering" you have seen very soon.
We apologise for all the trouble...
and wish to express our thanks to all those great people here, who helped to find and fix this error so fast.Download the updated version from
here
.