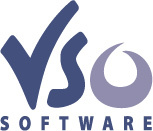 VSO Software
DivxToDVD
is an excellent tool for converting you video files (all popular formats supported, including .AVI) to real DVDs. So far the software has been offered for free, but today VSO announced that the latest 0.5 version will be
the last freeware release
. They will start working on a major upgrade, at it seems that from that point the software is shareware.
DivxToDVD 0.5
last free version ( so keep it in a safe place )
better support for DV files
support new file formats
engine updated
translations updated
fix the problem with AVAST antivirus running ( AVCODEC can't load )
Also, the PhotoDVD software (previewed
here
), which converts your image files into neat slide shows with background music, has again been improved.
PhotoDVD 1.0.5
new encoding engine
fix a problem with bad looking pictures
new project management
introduce hot point and more customization
Get the good from:
VSO Software