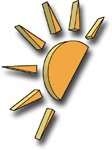 As some of you remember, we had a slogan competition running over this summer that ended two weeks ago. After a careful selection process that included voodoo, pieces of paper with people's nicks written on them and other highly scientific methods, we're proud to announce the lucky winners of the contest.
We received almost 1,500 suggestions for our new slogan. The winners are among the top ten best slogans submitted. We haven't yet been able to decide which one we will be our official slogan in the future, but you will be informed once we have finally made up our minds.
Thank you everybody who participated in our summer contest!