New feature skips around time wasting content on Blu-ray.
The latest release of
SlySoft
's
AnyDVD
software (
7.0.0.0
) has added a feature called
"Speedmenus."
Essentially, the speedmenu, when active, will replace the original Blu-ray menu on a disc you insert, or if you rip the contents of a disc to a hard drive.
It does this on the fly when you insert a disc, and it will also be included on any backups made. The new menu will allow direct access to the features on a Blu-ray disc, such as the main movie or specific chapters, without having to wait through annoying interruptions or trailers.
SlySoft also says the product can help with old Blu-ray players noted to have problems displaying menus on newer discs, as the speedmenu will be included in any backup made.
SlySoft promises...
Speedy access to the movie
Much shorter load times
Compatibility with older players
Prevents BD-live from calling home
Playback of 3D discs on 2D players
Auto-resume of BD-Java discs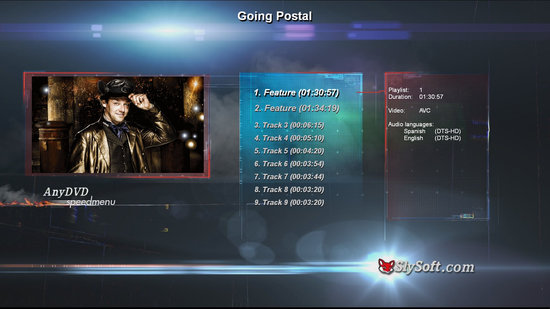 "This major release of AnyDVD marks the start of a very active 2012 for SlySoft with more major releases and new upcoming products in our queue,"
said
Giancarlo Bettini
, CEO at
SlySoft
.
"Although I am not allowed to go into details I can tell you that everyone should keep an eye on our website for things to come."
More information: SlySoft