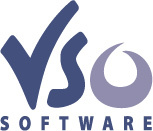 VSO Software
has updated its popular video-to-DVD conversion software, ConvertXtoDVD, to v2.2.1.253. The extremely easy-to-use solution for converting many video files including
AVI
, MKV, MPG,
WMV
,
3GP
etc. to
DVD
(complete with menu if wanted) is accounts for 145,889 downloads on AfterDawn alone. The latest version offers a few bugfixes and format support improvements. Here is the changelog...
0000905: [Feature Request] when checked 'add orginal file to DVD (if possible)' request for subtitles to be added too
0000906: [Bug] Video Camera DVD (Panasonic VDR-D300EG) are not recognized
0000869: [Unsupported file/stream format] Request for .ASS subtitle support

0000885: [Bug] vertical green line on right border on some video

0000896: [Bug] Not enough free space issue with version 2.2.0.251 (Windows 98)Download ConvertXtoDVD v2.2.1.253 from:
http://www.afterdawn.com/software/video_software/dvd_tools/vso_divxtodvd.cfm

Buy a full license for ConvertXtoDVD here.