This very quick guide will teach you the easiest way to convert those YouTube videos into MP3s that can be played in your favorite media players like
iTunes
, Winamp and
Windows Media Player
.
All you will need for this guide is an active Internet connection.
Getting the Video
Open
Video2MP3
and keep it open in a second tab or window.
Head over to YouTube, and find the video you wish to have converted. For this example I've taken the top music video on YouTube as of writing, the unfortunate "Call Me Maybe" by Carly Rae Jepsen.
Scroll down towards the middle of the page and hit "share" and then copy the URL of the video, which happens to be
http://youtu.be/fWNaR-rxAic
for this video.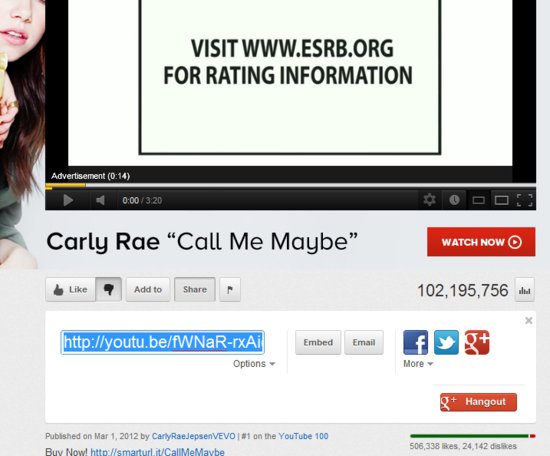 Using Video2MP3
Get back to the Video2MP3 tab and paste the URL into the space that reads (boldly) "Enter the URL of the video you want to convert to
MP3
." Make sure to tick off "High Quality" to get a better quality version of the track. When done, hit "Convert."

The conversion will take about 10 seconds but you may have to sit through an ad afterwards. Hit on "Click here to download your converted file" to be taken to the actual download page.

Finally, hit "Download MP3" or wait 20 seconds and it will do so automatically. Depending on your Internet speed the download shouldn't take longer than 2-5 seconds.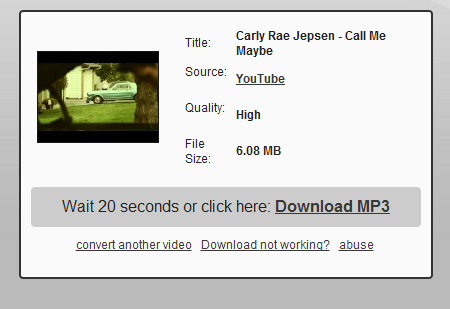 You now have a solid quality 256kbps MP3 of your favorite tracks, free of any restrictions and ready to be added to your library. This may not satisfy audiophiles will is certainly better than most copies that users may "find online."
Here is the properties that show up when added to my Winamp music library: