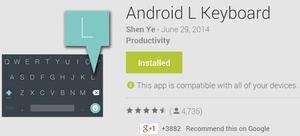 As part of the upcoming Android L refresh, Google changed the visual design of the operating system, as well, going with the new "Material" interface.

As part of the Material update has come a makeover of the stock Google keyboard, which promises to be faster and better predictive than previous iterations.

Unfortunately for most, Android L is not available until later this year but Nexus 5 and Nexus 7 owners can flash a developer preview and so tons of screenshots and code have been released for the new OS. Fans of the new keyboard look are in luck, as well, as a developer has ported the keyboard without mod as a standalone app that can be downloaded from the Google Play Store.

When you install it, you will be run through a three step process to have it set as your default input device, and you can choose from a couple of colors including "Material" (navy blue) to your liking.
Read more...
---